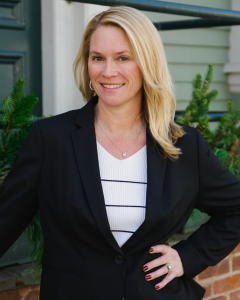 Samantha Currie
Sr. Mortgage Advisor
NMLS #13528
(401) 226-1582
About Samantha
Samantha Currie has been in the sales and customer service industry since her graduation from the University of Massachusetts in 1999 where she graduated with a degree in Animal Sciences.
After graduation, Samantha made the decision to run her father's business, a franchise of "The Maids Home Services", whose territory covered all of Cape Cod and the Islands. She was the sole manager for four years. While working there she handled all sales, customer service, customer/employee retention and marketing.
After moving to Rhode Island in 2003, the commute proved to be too grueling, so Samantha made a career change and went to work in the mortgage Industry. Samantha is an active member of a chapter of a Business Networking International (BNI) Group which she started with another member 8 years ago. When starting her group, she sat in on many different BNI group meetings and got to know two current employees of Province Mortgage Associates who were members of BNI as well. After speaking with them and learning about their company, Samantha decided she had to join their team!!
Samantha started her career with Province Mortgage Associates in March of 2006 and is very excited about the endless possibilities and support from the company and its programs. Prior to Province Mortgage Associates she had worked with Wells Fargo Home mortgage and Advanced Financial Services, both of which were based in Newport, Rhode Island.
Her approach has always been to present a clear, concise, and personalized plan that meets the financial needs of her customers. Samantha uses dedication and determination to reach not only her personal goals, but also the goals of her customers and business associates.
Samantha now lives in Barrington Rhode Island with her husband and their three boys, James, Jack, and Jonathan.
When Samantha is not at work, she enjoys hiking with her dog, swimming, paddle boarding, horseback riding and spending time with her family at their home in Vermont!
"Amazing experience working with Sam. She and her team made the process seamless and as stress free as possible. I'll be recommending them to everyone I know in need of service."
-Samantha P. from North Kingstown, RI
"Samantha and the Province Mortgage team always responded quickly and took time to explain every step of the process."
-Linda N. from Warwick, RI
"Samantha made this process very simple. She was very prompt with answering any questions I had and was reachable anytime. I would recommend her to anyone that is in the market for a new mortgage or refinancing."
-Samuel H. from Warwick, RI