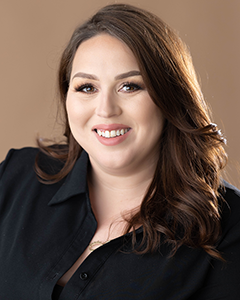 Michaela Bradford
Mortgage Advisor
NMLS #2061897
(
401) 489-6282
About Michaela
Mortgage Advisor Michaela Bradford, Rhode Island native grew up in Smithfield, RI. After graduation, she enrolled in the United States Army. She was stationed at Fort Drum in Jefferson County, New York serving 2 years of active duty for the 10th Mountain Division. After leaving the army, Michaela worked in the hospitality industry for ten years. "My experience taught me that you learn more from listening than talking, as well as how to handle a high stress environment." Michaela has always been goal-oriented with a calm, focused attitude, and she's committed to doing whatever it takes to complete
any mission.
In October 2020, after experiencing the effects of the 2020 pandemic, finding herself out of work as a bartender. Michaela enrolled in the Mortgage Data Processing Program at CCRI, which is a collaboration between the college and the Rhode Island Mortgage Bankers Association. This move presented her with a valuable opportunity just a few months later, when she was hired in February 2021 as a production assistant for Sr. Mortgage Advisor Rhonda Mulligan at Province Mortgage Associates. Michaela's choice to learn about the mortgage industry, combined with her experience applying that knowledge working for a top producing mortgage team, provided her with the best "hands-on" experience a new professional could ask for in pursuit of her goal–becoming a mortgage advisor.
"When you work with someone like Rhonda, her high volume of production causes you to experience the entire mortgage process, learn almost every type of mortgage product, as well as how to provide clients with a 5-Star experience. Michaela has the knowledge and confidence to create outstanding mortgage solutions for her clients and professional network," Rhonda Mulligan shared. "She's organized, she has great integrity, and she is an outstanding problem solver: she is made for this business." Michaela lives with her husband Nick, her two sons Nick and Ben, and their cat Oreo. When she's not helping new homebuyers, Michaela enjoys cooking, going to the beach, and attending her boys' basketball and baseball games.