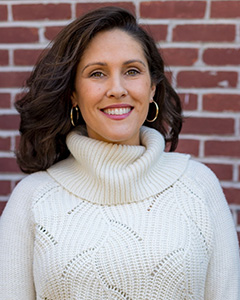 Jennifer Nunes
Sr. Mortgage Advisor
NMLS #1073297
(508) 930-6633
About Jenn
"As a Senior Mortgage Advisor my goals are clear, I am dedicated to educating my clients and working out any obstacles that may arise. I am a text or call away and I'm happy to say many of my clients look to me not just as a trusted Mortgage Advisor, but as a friend to help ease the concerns that may keep them up at night."
Jennifer also has a real talent for helping Real Estate Agents generate new referrals and grow their business using out of the box marketing strategies. Her drive, organization and tenacity will surely get you to the finish line, all the while learning along the way. With over a decade of outside sales and customer service experience in the Business to Business and Government sectors, Jennifer is no stranger to problem solving and customer relationship building. Making the leap into Mortgage Lending wasn't all to unfamiliar as her family has always had a part in the real estate world, as far back as she can remember she used to want to go to open houses on the weekends and has always loved the business.
Jennifer joined the Mortgage industry in 2012 and has been in love with it ever since. "It is truly rewarding to know I can help families and individuals alike with such a milestone in their lives, I love what I do!" Jennifer previously worked with Residential Mortgage Services, Inc. and joined the Province Mortgage Associates team in July of 2015. "The company's culture and products are what is truly special about Province Mortgage Associates; I am honored to work with such a stellar team!" Jennifer holds a XCO certification which less than 2% of Loan Officers have obtained. She was a founding member and President of her Business Networking International Chapter, 2013 Who's Who VIP Member of the year, studied Business Management in Iowa and at Johnson and Wales University. Jennifer lives in Rehoboth where she and her husband Ryan embrace rural living at its finest. They love yard work, gardening and raising their chickens. Jennifer loves being at home or traveling afar. Her absolute favorite way to spend her time is with family and her two young children Lila and Wesley."
"Jen is absolutely amazing, patient, full of wisdom, encouraging, the list goes on. She comes with an amazing team behind her such as a knowledgeable realtor and a home insurance expert. Something I had to kept thanking Jen for was that she not only supported me through being a young, first generation home owner and first time landlord but throughout the process she educated me thoroughly and that is something I will forever be thankful for."
-Sandra S. from Fall River, MA
"Jennifer's knowledge of stuff, she answered all my questions. You can really tell she loves what she does – which makes it great for all parties. "
-Alan S. from South Kingstown, RI
"This was a fantastic experience. Jenn and her team were professional, helpful, and extremely prompt in responding. I will definitely be going to her for any future mortgage needs!"
-Christina C.