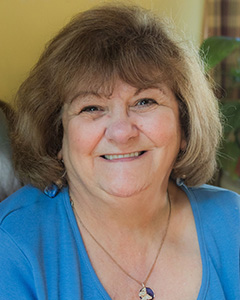 Christine McAllister
Sr. Mortgage Advisor
NMLS #20839
(401) 397-6084
About Christine
Christine McAllister has been in the Mortgage industry for 27 years servicing clients in Rhode Island, Connecticut, and New Hampshire. Whether it is a first time home buyer, refinance, or investment property, she has the skills and knowledge to walk with you through the process.
A resident of Foster, Christine's storied career dates back to high school, where her talent for numbers brought her to a major in math, followed by degrees in both computer programming and business. Within that period, Christine began working as a Realtor, a trade she held for over 10 years before making the move to finance. She has been in the industry ever since, enjoying time as a rep for the General Motors Acceptance Corp, a Loan Officer for Trident Mortgage, and finally, a Mortgage Advisor for Province Mortgage Associates, where you can find her today.
Christine's goal is to make sure you are educated and comfortable with the process from beginning to end. She is available 7 days a week and will meet with you at your convenience. Her approach is old-school service with top of the line technology, operations staff and products. Getting the job done is not as important as getting the job done RIGHT!
When she isn't helping clients into their dream-homes, you can find Christine with her family, a jubilant mix of 6 children and 11 grandchildren, or her husband, Michael. She enjoys cooking, nature walks, and most of all, mortgage advising!!!
"Christine is amazing! She always goes above and beyond for her clients. We recommend her to everyone we know."
-Julie D. from South Kingstown, RI
"Christine was wonderful through the whole process. She was always in touch and was very clear and helpful on what needed to be done. "
-Bianca M. from Johnston, RI.
"Christine has been fantastic to work with and very informative. I had questions involving processes and Christine was able to answer all of the questions in a concise and easily understood manner. Every time I called, Christine was quick to answer or call back making me feel like more than a number. Christine also worked very well with the real estate agent representing me. My real estate agent had nothing but positive praises on Christine's work ethic and response. Between Christine and real estate agent, the transaction was seamless to procure the home for my family and I. Many thanks to Christine and Gail (underwriter)!!!!!!!!"
-Bobby Y. from Ledyard, CT