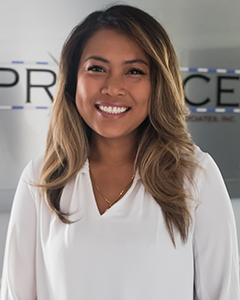 Chanceny Khea
Senior Mortgage Advisor
NMLS #
1944667
(401) 649-1649
About Chanceny
Mortgage Advisor, Chanceny Khea was born in Providence and grew up in Cranston, RI with her mom, dad and two siblings. She attended Cranston East High School, and later was accepted at Johnson and Wales University where she studied accounting. Many years prior, her mom and dad bravely escaped war in Cambodia when they were just teenagers and emigrated to the United States. They started a new life, learning a second language, building careers, and ultimately accomplished the American Dream of homeownership for their family of five. The influence of her parents' story has instilled a powerful sense of gratitude in Chanceny's life that has carried forward into her career as a mortgage professional. 
In 2012, she began in the automotive industry as Sales Assistant for Tasca Ford. As Chanceny matured in her new role she moved from web sales to the sales floor of the dealership. After working for a couple of locations and learning the finance side of the business as well, she made the move and accepted a position as a Banker with Bank of America in 2017. "Banking taught me how to build relationships with people. Clients feel that I am very approachable and non-judgmental. I get most of that from my mom and dad." She later moved to Harbor One with aspirations of becoming a loan officer. Chanceny grew up in a 2-unit, one bedroom duplex, and did not have her own bedroom until she was thirteen. She credits her success as a Mortgage Advisor to her upbringing and remains committed to helping her clients achieve that same dream of owning their own home. "I advise every client like they were my family!"
Now at Province Mortgage Associates, Chanceny feels that she is finally in the best position to serve her clients and the network partners who refer them. The Province Team is based on trust, integrity, and a real commitment to helping each other succeed. Regional Sales Manager, Tim Johnson shared, "I have known Chance for several years and her level of dedication to her craft is exemplary. It has been a pleasure watching her grow as a professional, and she is a perfect fit for our company culture." She currently resides in Coventry, RI, and when Chance is not helping clients or watching her Ohio State Buckeyes, she enjoys spending time with her boyfriend Brandon and her two kids, Ellie, and Nate.