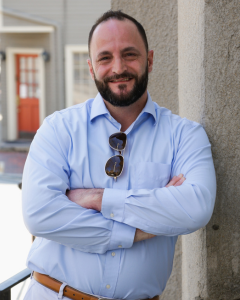 John Faria
Sr. Mortgage Advisor
NMLS# 397424
(508) 762-7873
About John
Senior Mortgage Advisor, John Faria was born and raised in Mansfield, MA where he grew up playing sports, riding bikes, and making sure he got home when the streetlights came on. He attended Mansfield High School and later earned an Associate Degree from Massachusetts Bay Community College. John went on to graduate from Pittsburg State University with a BA in Business Management and Automotive Technology. Being a child of the 90's, John could be heard singing Eddy Vedder tunes from the top of his lungs as he drove through town, and his passion for cars found him in the Chrysler Apprenticeship Program where he would eventually become a Master Certified Automotive Technician with the company for the first 12 years of his professional career.
As the economic downturn of 2008 began to take its toll on the auto industry, John's enthusiasm for problem solving and his desire for providing outstanding customer service pointed him in a new direction in support his growing family. He took a position in real estate helping distressed homeowners by negotiating mitigation with their lenders which connected him to professionals throughout the industry. "I witnessed how broken the lending industry was due to a lack of transparency and proper consumer education." John aspired to become a better grade of loan originator to ensure that the people he cared for, and who also cared for him, would never fail at homeownership. He joined Province Mortgage Associates in 2011 where he excelled through 2018 and later moved on to the team at Guaranteed Rate in 2019, where his continued success earned him President's Club honors. John earns the majority of his referral business from his past clients because of his unwavering dedication to service and his attention to detail. Realtors® love his determination, honesty, and outstanding communication skills. 
December of 2022 marks John's return to the Province Team where culture and attitude create an atmosphere of family that he missed.  "We are not the largest lender in the state intentionally because we hire the right people, and we all take great pride in our reputation by providing an experience that is unparalleled in the industry." Marketing Director Don Wilson shared, "John is a very talented guy who organically lifts the spirits and the games of the people around him, and his commitment to his clients and network partners is truly remarkable."  John resides in Plainville, MA with his two beautiful kids, Vinny and Chloe, and they enjoy everything that New England has to offer from the shorelines to the mountain tops, its history, and everything in between.