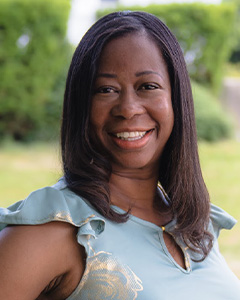 Cheryl Galloway
Mortgage Advisor
NMLS #
2048427
(617) 719-6972
About Cheryl
Mortgage Advisor, Cheryl Galloway was born in Honduras, Central America and is fluent in both Spanish and English.  She grew up in Boston and after moving to Rhode Island, attended Charter Oak College in New Britain, CT graduating with a degree in Psychology and Latino Studies. She has always enjoyed learning about what drives people's choices and decisions, and her love of helping others succeed landed her the position of Loan Officer with Mortgage Horizons in 2017. She often volunteered at her children's schools, and when the role of Director of Admissions became available at Times 2 Stem Academy where her kids attended, she applied and won the position. She transitioned into education and remained in that industry for nine years until 2020.
"When COVID arrived and my youngest son was about to graduate from high school, I began to analyze my future as a professional. What I enjoyed most about my role in admissions was the joy that families felt when they entered the lottery and assisting those families towards making important life decisions." Cheryl re-entered the mortgage industry as a Processor for Guaranteed Rate Affinity and left in March of 2022 to become a mortgage originator again. "Just like my role in admissions, mortgage lending allows me the privilege of assisting people with another one of life's biggest choices in buying a home." She is proud to be a Latina who enjoys helping those in her community achieve the dream of homeownership. Cheryl earns the trust of her clients by educating and communicating on a high level throughout the transaction.
Coming full circle back to the mortgage industry, Cheryl has chosen to become part of the Province Mortgage Associates team because of their supportive work culture where mortgage advisors thrive over many years because they truly care about each other's success. Tim Johnson, Regional Sales Manager shared, "As a former educator whose passion for helping people learn and grow, Cheryl's skill set has transitioned effortlessly into the mortgage industry. She is a terrific asset not only serving the Latino community but every aspiring homeowner in our market." Cheryl currently resides in Providence with her husband Steve of 24 years, her 3 amazing sons Randy, Jehlani, Mahki and their grandchild Romello.  When she is not writing mortgages, she enjoys spending time with family traveling, taking pictures, and playing board games.