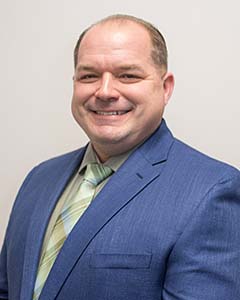 Anthony Anderle
Sr. Mortgage Advisor
NMLS #1909688
(860) 982-5559
About Anthony
Senior Mortgage Advisor, Anthony Anderle was born in Washington state and grew up in New Britain, CT playing baseball, hockey and enjoying on his 1980 Monte Carlo as a self-proclaimed "gear head." Upon graduating high school, he followed the example of four generations of Anderle men serving in the United States Armed Forces and became a Marine. After four years of military service, Anthony achieved his childhood dream by becoming a police officer. "I have civil service in my blood. Whether I was helping a senior citizen cross the street or chasing down bad guys, I got that same feeling of satisfaction because I was helping the people in our community." He retired from the force after 20 years and decided to pursue another passion that developed as he traveled over his career in service…real estate.

In 2019, Anthony became a loan officer with American Mortgage Affiliates Company to help buyers and homeowners make better financial decisions. "Prior to my mortgage career I purchased three houses and every experience felt like I was in the dark. I never want a client of mine to feel the way I did." Anthony believes that "knowledge is power", and he prides himself on going the extra mile to guide, educate and answer every client question. With a focus on affordability, Anthony's clients have a tremendous amount of stress taken away when shopping for their first home, refinancing their mortgage or investing in property. "I am proud of my community, and my goal is to help our residents make better mortgage choices towards financial stability so they can thrive as homeowners."

In 2021, Anthony made his move to Province Mortgage Associates working from the Shelton, CT location. "Province shares the same core values as I do. I'm about transparency, integrity and a high level of customer service that creates better relationships." Anthony resides in Southington, CT with his wife Jennifer and their two bulldogs. They enjoy traveling the United States visiting their three sons Anthony Jr., David, and Samuel who have also followed the family tradition of being 5th generation military service by serving in the United States Marines Corps.