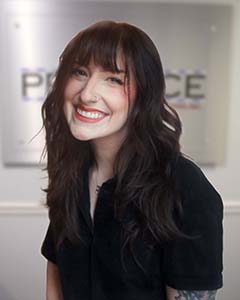 Abigale Fitzgerald
Mortgage Advisor
NMLS #
2060941
(
401) 575-3281
About Abby
Native Rhode Islander, Abigale (Abby) Fitzgerald grew up in Coventry, RI with her two brothers and her mom and dad who both worked in professions associated with real estate. She enjoyed reading and excelled in academics at Coventry High School. After graduation she worked as a bartender and also enrolled in hair-dressing school. Abby later attended the Community College of Rhode Island and graduated with her associates degree in business administration. While at CCRI, she was selected to participate in the "Mortgage Data Processing Program", a collaboration between the college and the Rhode Island Mortgage Bankers Association.  
Abby graduated in December of 2020 and just two months later was hired at Province Mortgage Associates as their new Customer Service Specialist. Having a seasoned customer service background from nearly a decade in the hospitality industry, it is Abby's ongoing mission as a mortgage professional to make the home buying process stress free, transparent, and accessible to all. "When you talk to people you take in their struggles, worries and fears. I enjoy turning them around into something productive by becoming an advocate and educator for my clients and Realtor partners." Abby believes that the only thing stopping someone from the American dream of homeownership is connecting with the right mortgage professional to guide them through the process. 
Abby prides herself on her honesty and integrity, echoing the core values of Province Mortgage Associates. President Dave Currie shared, "In listening every day to Abby's presence as the first impression of our company sitting at our front desk, we knew she would eventually become an outstanding Mortgage Advisor." Abby wants to help millennials like herself, and all age groups build wealth through real estate. "People my age, having endured two recessions, just don't see real estate as a wealth builder. I aim to change that." When she is not working with her clients, Abby enjoys all things creative. You can find her painting, singing, cooking, and crocheting with her rescue dog Lady sitting (and barking) by her side.